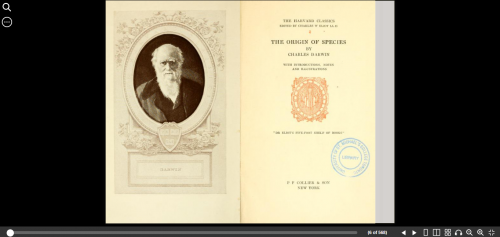 We're pleased to announce the release of our freshly re-designed BookReader on the Internet Archive.
The updated BookReader has these great new features (links will take you to a live example):
Redesigned user interface that maximizes the amount of space given to the book. Click the down arrow on the navigation bar to hide the user interface. (The Origin of Species)
Navigation bar that helps show your location in the book and navigate through it. Search results and chapter markers (if available) show up on the navigation bar.
New Read Aloud feature reads the book as audio in most browsers.  No special software is needed – just click the speaker icon  and go!
Tables of contents are being automatically generated for most books and can be edited or added manually through the Open Library site.  The chapter markers appear in the new navigation bar. (Launching Out Into The Deep in Wake of the War Canoe)
Vastly improved full-text search.  Search results are shown on the navigation bar and include a snippet of text near the matched search term. (Search results for "hawk" in book of birds)

More sharing options – the new Share dialog gives you to option to choose how to link to the book and set options when embedding the BookReader on a blog or website.  As always, you can just copy and paste the address in your browser address bar to get a shareable link to the current page. (Page 65 of Aviation in Canada, 1-page mode)
Touch gesture support – swipe to flip pages in two-page mode, pinch to zoom on iOS.
Improved support for tablet devices like the iPad.
Updated UI for the embedded BookReader – now includes "expando" button to view the book in a new browser window.
Integration with Open Library – books that have an Open Library record can have their title and table of contents edited through the Open Library site. The chapter headings on Open Library link directly into the BookReader. (Flatland table of contents on Open Library)
Here's an embedded book for you to play with.  For any of our publicly accessible books you can embed it on your blog too by getting the embed code from the Share dialog!
Incredible thanks to our fantastic team for making it happen:
Raj Kumar – Read Aloud
Mike McCabe – table of contents
Peter Brantley – BookServer wrangler
Edward Betts – full-text search
George Oates – new user interface
Lance Arthur – markup and CSS
Alexis Rossi – QA
Jeff Kaplan – QA
Michael Ang (yours truly) – Putting It All Together(tm)
All of the Archive staff and contributors that make putting the books online possible!
As always, the BookReader remains open source and you can look at our developer documentation for information on reusing it on other sites. We'd like to thank user yankl on github for contributing a patch related to using the BookReader with right-to-left languages.