Earlier this year, the Internet Archive's Open Library conducted a brief survey to learn more about patrons' experiences and preferences when borrowing and reading books. As promised, we've anonymized the results and are sharing them with you!
We invite you to watch the presentation or view the slides: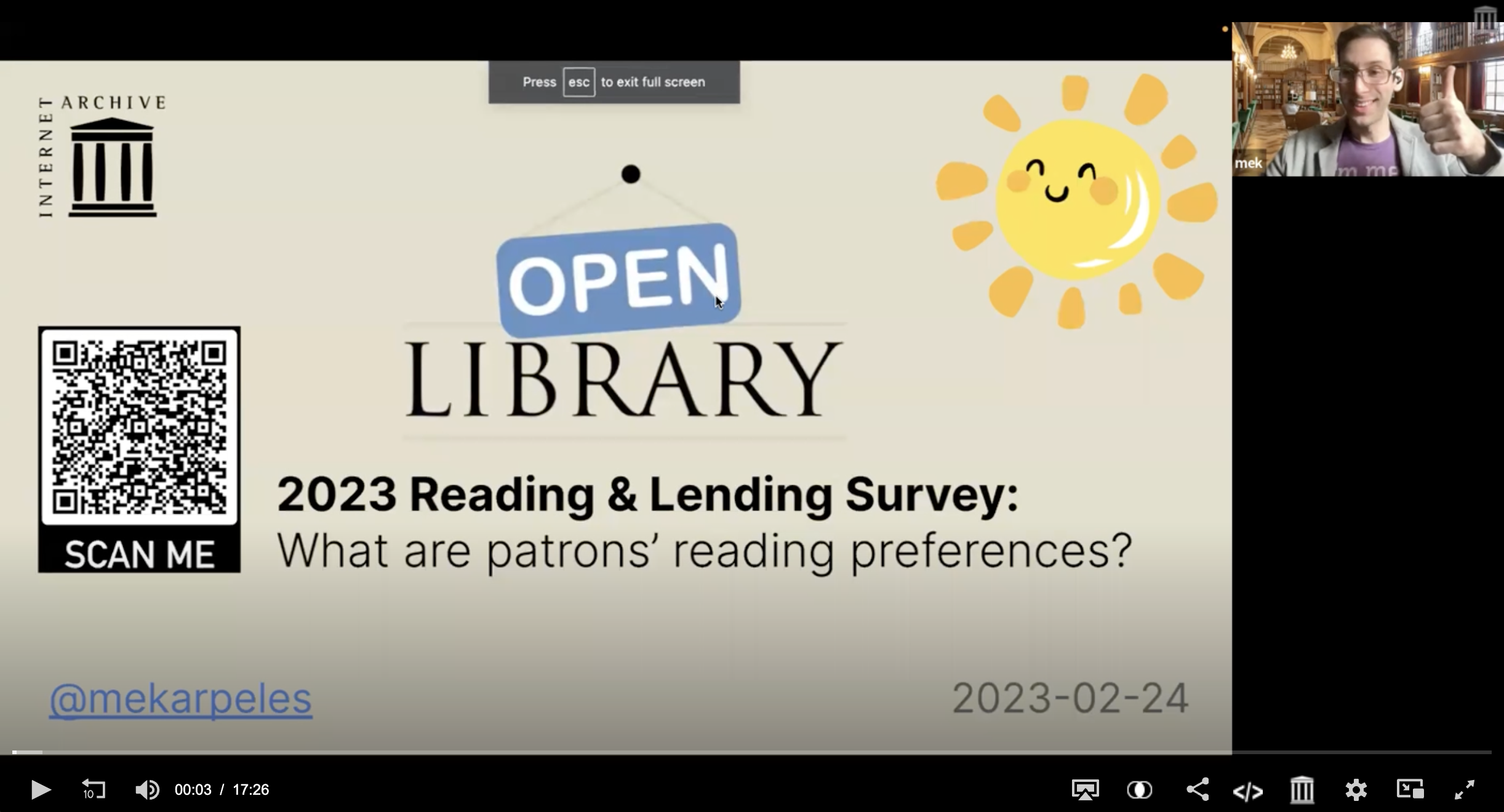 Purpose
The purpose of this survey was to better understand:
If, how, & why Open Library patrons download books
How patron reading preferences align with our offerings
Survey Setup
For one week, starting on Tuesday 2022-02-07, OpenLibrary.org patrons were invited to participate in a brief survey including 7 questions — one of which was a screener to ensure we only included the responses of patrons who have prior experience using the Open Library.
In total, 2,121 patrons participated in the survey and, after screening, 1,118 were included in the results.
Errata: In the original survey, the question asking patrons "When you DON'T DOWNLOAD the books you've borrowed from Open Library, what is your primary reason?", we mistakingly omitted a "N/A – I Don't typically download" option and we corrected this on day 1 of the survey.
6 Key Learnings
Around half of participants have used adobe content server with DRM to securely download their loaned books
Of participants who download their loans, the top reason (54%) is for offline access
Of participants who download their loans, a quarter do so because they prefer the EPUB text format to the image-based experience of the online bookreader.
Around 42% of participants report difficulty downloading their loans. Of these participants…

69% were unable to locate a download option (or a download option didn't exist for that book)
31% experienced found a download option but couldn't get it to work

Around half of participants intentionally opt for BookReader for a variety of reasons:

Its simplicity & convenience; no app installation required
Many teachers can't download on school computers
Many patrons don't trust downloads, dislike DRM, or want their reader privacy protected
Some patrons have limited storage space

Around half of participants read for pleasure, the other half for some form of self-learning or research.
What participants said
~150 participants shared their praise, thanks, and personal inspirational stories
~75 participants offered productive critiques for how we could improve our book finding and book reading experiences

Fixing OCR, hiding menu bars while reading, zooming & scrolling, etc

~55 participants expressed concerns about "1 hour" lending duration
Some participants did not like the intrusive, non-dismissable Open Library banner
How we're responding
Open Library created a github issue for allowing patrons to dismiss news banners and we have since implemented this feature to make announcements work better for the community!
We heard feedback from the community loud and clear that the implementation of 1-hour loans may not always be ideal for all patrons. The Internet Archive has been exploring and prototyping various tweaks to lending, such as an auto-renewal mechanism, that could extend a loan automatically for a patron if, at the end of the loan period, the book is still actively being read.