The Open Library catalog is used by patrons from across the globe, but its usage is predominated by English speakers (32% US, 9% India, 5% UK, 4% Canada). This is driven by four factors which we're working to change.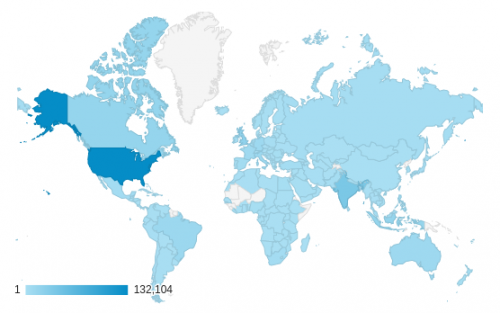 International Holdings – It goes without saying that, in order to be an Open Library for the Internet™ our catalog needs to include book records and link to source material from more languages. We're actively working with the acquisitions team within the Internet Archive to fight for greater diversification of our book holdings, including more languages and regions. If you are an international library or publisher, you may help us by sharing your catalog metadata and we'll happily include these records on Open Library & provide back-links so patrons know where the metadata comes from.
Search – In order for Open Library to be as useful as possible for diverse communities around the globe, our search engine has to show patrons the right books with appropriately translated titles. Managing a search engine for a service like Open Library is a full-time job. Presently, this gargantuan task is spearheaded by Drini Cami. Presently, because of historical reasons & performance, the Open Library search engine indexes on Works (collections of editions) as opposed to Editions. This limits our ability to tailor search results and show patrons book editions in their preferred language. This year we made progress on supporting Edition-level indexing and "search for books in language" (one of our most requested features) will be on our roadmap for 2022.
Marketing – Open Library is run by a small team of staff that you can count on one hand and our success depends on the efforts of volunteers who champion literacy and librarianship for their communities. We're still learning which channels may be best to extend our offerings to patrons in regions which we're currently under-serving. If you have an idea on how we can reach a new community, we'd love your advice and your help. Please send us you ideas using the "Communication & Outreach" link on our volunteer page.
Translation & Localization – Making a website like Open Library accessible and usable to an international audience takes more than clicking "google translate". For years Open Library has had a pipeline and process for adding translations.
Goal: 5 Languages
Our current goal is to fully localize the Open Library website into 10 languages. We currently have contributions for translations across 7 languages: Čeština, Deutsch, English, Español, Français, Hrvatski, and తెలుగు.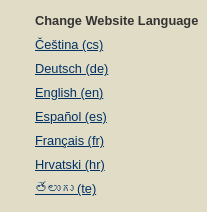 English, Spanish, French, and Croatian (Hrvatski) are the most up to date and you can try the website in those languages by clicking their respective links. Can you help us get one of these other languages across the finish line?

Why Contribute Now?
In the past, translators did not have an automatic way to receive feedback about whether they had contributed translations correctly. Translators would need to have a conversation with staff in order to get started, submit translations for review, and then a member of staff would report back if there was a mistake. This process had so much friction that it resulted in many incomplete translation submissions.
This year, Jim Champ, Drini Cami, and others in the community added automated validation so translators get near-real time feedback about whether translations had been submitted correctly. Now, submitting a translation is much simpler and only requires one to know the target language. Here's how!
How it Works
All you need in order to contribute translations is a Github account. Translations can be contributed directly on the Github website by following the Translator's Contributor's Guide with no special software required to participate.
Want to Help Translate?
Let us know here: https://openlibrary.org/volunteer#translator
Meet our Translators
Daniel Capilla lives in Málaga, Spain and has been contributing to Open Library since 2013. Daniel's interest in contributing to Open Library was sparked by his joy of reading and all things library-and-book-related as well as the satisfaction he gets from contributing to open source projects and knowing that everyone will be able to freely enjoy his contributions in the future. Dan has made significant contributions by adding a first Spanish translation and believes:
"The issue of the internationalization of the Open Library seems to me to be a fundamental issue for the project to have more acceptance, especially in non-English speaking countries. This is an issue on which there is still much to be done."
Follow Daniel on twitter: @dcapillae