You can now publicly review books using structured book #tags on Open Library with Community Reviews. Take a look, try it out, and send us feedback!

---
Many social book websites including Goodreads & LibraryThing feature text reviews from the community. Why hasn't Open Library?
As a non-profit library service with a small staff, there are three reasons we've resisted the urge to add text reviews to Open Library. First and foremost, we feel strongly about preserving Open Library as an inclusive, safe, neutral place where readers can trust the information they receive. Some opinionated reviews, even though valid, may contend with this goal. Secondly, we're cautious about adding features which may require a large time investment to moderate well. We'd rather spend our time making it easier for people across the globe to find books in their native languages than sink all of our time reviewing spam. Finally, there are indeed already several websites which feature text reviews. We're excited to link patrons to these resources and think our time may be better served exploring new ways of adding unique value back to the book ecosystem.
This all said, reviews are one of the most requested features by book lovers on Open Library and we feel its important readers to have their voices heard. So what are our options?
A review of reviews
One super-power of text reviews is that they are unstructured. Their open-ended format allows reviewers to express very nuanced and deep thoughts like, how impressively the male author Arthur Golden was able to portray the emotional turmoil of the female characters portrayed in Memoirs of A Geisha. This super-power does come with a trade-off. It can be challenging to compare reviews and know which should be trusted; two reviews may have completely diverging styles or focus. One reviewer may be reacting to the story line while another may be critiquing the book's pace. Reviews are often not easily digestible. A lot of information is lost when one tries to compress a review into a single star rating. Because of these challenges with "digestibility", it's also challenging to summarize text reviews as data which may be used to help people discover new books. Amazon has some techniques which we considered:


A collaborative approach
How can Open Library empower readers to share their impressions about books in a new way, facilitate useful reviews which are structured and easily digestible, while maintaining a safe and neutral library landscape?
Open Library's collaborative approach, which we're calling Community Reviews, borrows from an old (now defunct) project called BookLamp and a more recent project called StoryGraph, which let participants use tags to vote on & review various aspects of books like pace, genre, mood, and more: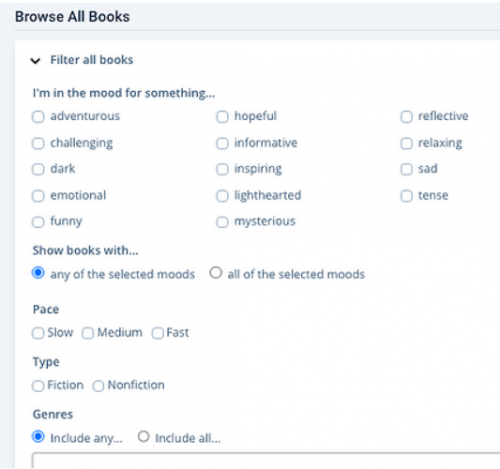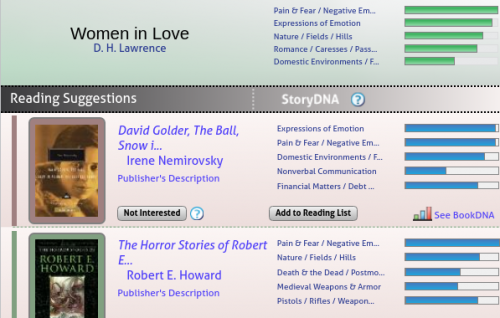 The more participants who vote using review tags, the more accurate and meaningful the review becomes for the community. Instead of sifting through dozens of text reviews, Community Reviews gives readers a birds-eye view across many publicly listed dimensions they might care about like Pace, Enjoyability, Clarity, Difficulty, Breadth, Genre, Mood, Impressions, Length, Credibility, Text Features, Content Warnings, Terminology, and Purpose.
Here's what Open Library Community Reviews looks like: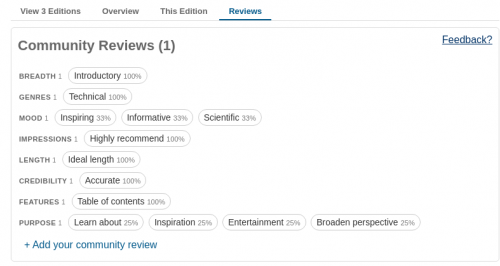 By clicking "+ Add your community review", any logged in reader may submit their own public, anonymous reviews: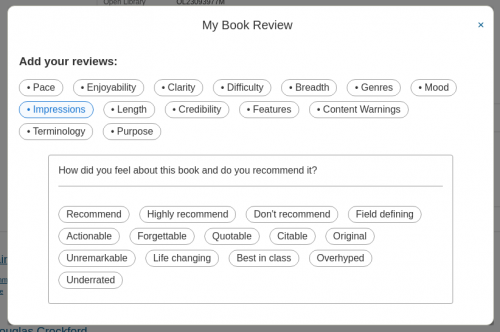 Building Together
Community Reviews features a public schema which anyone may reference or propose changes to. It's a work in progress and will undoubtedly need the community's feedback to become useful over time.
Feedback
Community Reviews is a beta work in progress and we expect it to change drastically over the coming weeks based on feedback from our community. We also anticipate issues and bugs may emerge — you can help by reporting bugs and issues here.
We do have every intention for Community Reviews to be included (in an anonymized form) in our public monthly data dumps for the benefit of our community and via our APIs, though this may take some time to implement.
As the number of Community Reviews increases, our plan is to include them in our search engine so you have ever more ways to identify the best books for you.
We know many patrons would still love to see text reviews on Open Library and that Community Reviews isn't a replacement for every use case. We sincerely appreciate this and still, we hope that readers will find this new feature valuable and provide us with feedback to improve it over time.
Thanks
We'd like to sincerely thank Jim Champ who recently joined as staff member on Open Library and whose leadership was indispensable in bringing this feature to life. Thank you to you Drini Cami, also staff at Open Library, for his contributions to improving the user experience. If you hate the idea or execution, blame Mek but do give us feedback to improve.