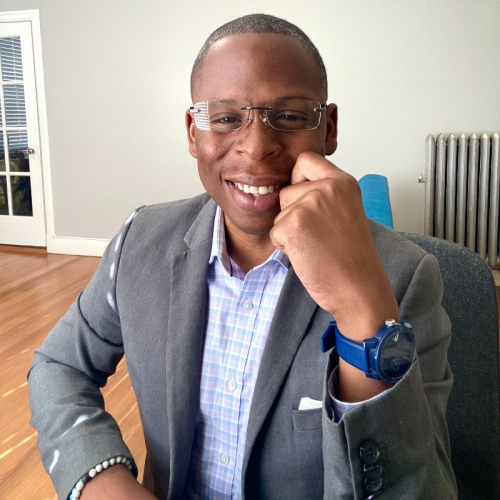 Hello, I'm Nick Norman – I volunteer as the Lead Communications Fellow at the Internet Archive's Open Library.
The Open Library provides readers with free, digital access to millions of library books, but we can only help readers who know we exist. My mission is to cultivate an inclusive communications program that helps even the most remote readers discover and access our free services, learn about new features, and stay informed about the latest library news. In the service of achieving this goal, I've spent the past several months designing a strategic communications plan for OpenLibrary.org.
In this post I'll share my personal story. I'll also teach why effective communication is essential to helping patrons, explain how we're structuring our communications strategy, and share what we've achieved so far.
For me, volunteering was always in the books
Open Library's mission of being a free, public, open source catalog of books is personal to me because my parents were both librarians and my mother was a writer. Growing up, my library card was one of my most prized possessions and I seldom left home without it. In 2020, I took my library card digital by participating in an Open Library hackathon – a unique social event where volunteers of all backgrounds joined together for a few intense hours with the shared goal of improving the website together.
During this event, I felt supported by a passionate community of designers, engineers, and librarians. It was the Open Library community's emphasis on inclusivity that truly resonated with me and motivated me to apply and become an Open Library Fellow. As someone who has felt personally marginalized and overlooked, the community's commitment to equity and inclusion holds deep significance to me.
Empowered by these experiences, I'm proud to direct my expertise in communications to help bridge the gap between the many overlooked readers who need access to books and the bountiful books lining Open Library's digital shelves.
The Importance of Communications
The greatest minds may develop the world's greatest ideas and still fail to reach the minds of others. Some of Nikola Tesla's most brilliant inventions ended up being coopted by more effective communicators; his invention of Alternating Current was capitalized by Thomas Edison and his Tesla Coil, which proved the concept of wireless transmission, was popularized by Guglielmo Marconi who applied the technology to produce the iconic radio.
Since connecting with other humans through storytelling is such an important aspect of effective communication, here is a story of a renowned scientist named James Hutton, who in 1785 failed to excite those at the Royal Society of Edinburgh, despite making the groundbreaking (pun intended) discovery of tectonic plates. You can probably guess why based on this excerpt from Hutton's writing recounted in Bill Bryson's book, "A Short History of Nearly Everything":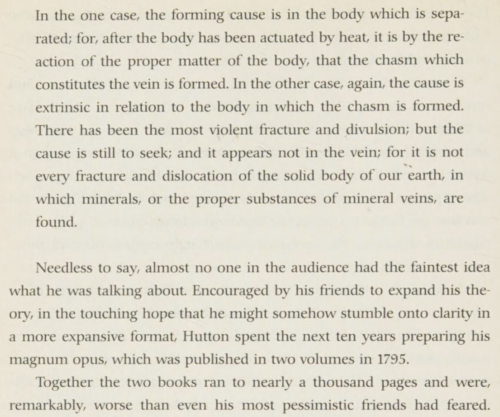 A practitioner may architect the grandest service with every bell and whistle, but if it doesn't reach the right audience and get presented in a way that resonates with their needs, it's unlikely to stick. It's a sentiment perfect captured by Dr. George Berkeley in his proverbial question, "If a tree falls in a forest and no one is around to hear it, does it make a sound?"
So how might a project go about communicating a message effectively? What does effective communication look like and what does it achieve? At Open Library, we start with a desired outcome, like teaching patrons about a new feature, and then gain additional clarity by applying a framework to answer 5 Ws:
For Whom is the message intended (audience)?
Why is the message being broadcast (purpose)?
What is the strategy, tone, and approach for the message (content)?
When will the message be broadcast (timing)?
Where & how will the message be broadcast (distribution)?
Within each of these 5 W's, there are opportunities for experimentation and testing to measure and improve success. Where did readers prefer to receive our messages — on twitter or our email distribution channel? Was broadcasting a message when it was 2pm better for readers than 5pm? Was what we sent out engaging to readers? For those who read the news, were we able to reach librarians or did we reach teachers instead? As we systematically break down communications into smaller problems and a framework for testing and improving success, we begin to see that it's a lot of work. The more news there is to publish, the more features to announce, and the broader the audience, the more challenging it can be to effectively coordinate answers to each of these questions.
Communications Challenges at Open Library
Open Library's growth over the past several years, driven both by the challenges of the COVID pandemic as well as a continuous torrent of new features, has led to increased demand by patrons looking for resources to guide their experience. The absence of a formal communications program has made it challenging to produce content at this large a volume and frequency — particularly articles for our blog. No one person could do it well and so our first objective has been to explore streamlined processes for coordinating the production and distribution of high quality content.
The production of each blog post involves multiple stages: ideation, research, graphics, writing, editing, promoting, and evaluating impact. With a small team, one could only produce a few quality articles a month. Scaling this process requires first having a formal process for producing a single blog post and then understanding where the bottlenecks are, which tasks may be parallelized, and developing effective training tools for a volunteer community where contributors are likely to come and go based on their busy schedules. In a scenario where multiple blog posts are being authored at once, we also needed a system for coordinating progress and needs across blog posts.
Solution: Our Communications Program
To address the challenge of not having a communications program in place, we initiated a period of planning and strategizing which has led to some amazing achievements. One notable accomplishment is the successful implementation of a dedicated Slack channel, serving as a space for our communications team to work together on a diverse range of projects. Additionally, our communications channel fosters cross-functional collaboration by allowing leads from within Open Library to join and contribute to the progress of intersecting projects.
Another significant accomplishment is the creation of our communications homebase, providing a central location for our communications efforts. Within the homebase, volunteers can access information about active projects and stay updated on the latest strategies being developed. Additionally, the homebase serves as a valuable resource for understanding our communication guidelines, community rituals that foster inclusion, and policies that shape our collaborative environment.
By establishing a dedicated communications homebase, we have successfully tackled the challenges associated with showcasing active communications projects and onboarding volunteers at varying engagement paces. The homebase also plays an important part in keeping everything organized, streamlining volunteer contributions into our Slack space and ensuring everyone's impact is truly felt.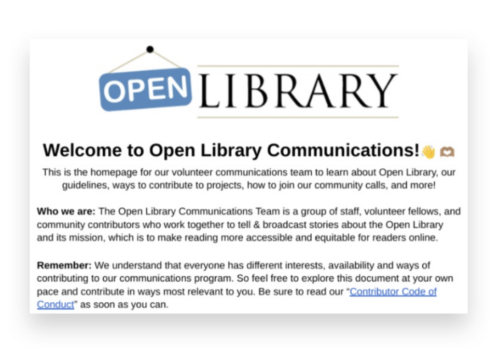 Another achievement by our communications team is the implementation of a bi-weekly communications video call. This gives us balance between working on projects in our Slack space and having real time check-ins to connect and share updates, provide support, and engage in discussions around intensive aspects of projects such as our blog program, a project that's been our center focus.
Through the progress we've made with our blog program, we have defined processes and identified key roles to form a team of dedicated volunteers responsible for producing one blog post at a time. Each team will consist of a project lead, content writer & graphics, editor, and promoter. This structured approach not only allows us to scale up with additional teams as new volunteers join but also enables us to accommodate the expanding scope of future blog posts.
The ongoing development of the blog program has enabled us to establish two distinct pathways for volunteers to participate. Individuals can choose to fill a specific role in the production of blog posts or they join a blog testing team, which helps us to test and explore best approaches to expanding the program as needed. Here are a few links to documents pertaining to testing and the development of our blog program.
In the process of obtaining these learnings for our blog, our team of volunteers have also been able to advance Open Library's communications efforts by creating 15 pilot episodes of an amazing unofficial community podcast. In doing so, we've achieved a better understanding of what it takes to run a podcast program where community members are empowered to help produce episodes.
Ways to Contribute
You can learn more about our progress with the podcast by visiting here, as we eagerly anticipate sharing an update in the future.
If you're inspired by the work we're doing in our communications program, we'd love for you to join us. You can do so by visiting our volunteer page or you can visit our fellowship page to learn more about contributing that way.
Personal Reflections
The process required for a single person to produce a blog post is very different from the systems and conventions required for a team to coordinate on producing content collaboratively. As a fellow on the communications team, I am quite proud to contribute to the mission of Open Library to bring online books to patrons and to serve as a champion for the idea that every reader should be included.
Reflecting on my journey from the time I first arrived at Open Library to where I am today, it feels like I have traversed two entirely different worlds. Each person I've encountered throughout my fellowship has played a significant role in contributing to expanding my professional skillsets and fueling my drive for promoting inclusion and accessibility in my work and daily interactions.
Work with Nick
While I intend to continue volunteering with the Open Library to further its communications program as a fellow, I am seeking career opportunities to support developing communications programs for communities, both online and offline. I love engaging with communities and making people feel welcomed. If your community would benefit from working with a communications specialist, please do not hesitate to contact me. I am also open to being contacted with opportunities to share my expertise through speaking, writing, or mentoring others in implementing similar communications programs.
Shoutouts
In Buddhist culture, "Dana" embodies the spirit of generosity. Mek Karpeles, the leader of the Open Library project, has exemplified this virtue by selflessly dedicating his time to help not only myself but also many others in their personal and professional growth. Just as Buddha teaches, I have gratefully received his gift with open hands and intend to share it freely with others.
I also want to thank Wendy Hanamura, the Director of Partnerships at Internet Archive, for providing me with valuable mentoring and foundational knowledge in communications prior to the start of my fellowship here at Open Library. It is a great privilege for me to have both Mek and Wendy as mentors in the same lifetime.
I would like to also acknowledge the valuable contributions from the members of our communications team over the past several months: Rachel Bayston, Urja Upadhyaya, Debbie San, Samuel Grunebaum, Crystal Mares, Roselle Oswalt, and many other volunteers who have played a crucial role in advancing our communications program from the planning phase to its actualization. Their feedback and contributions have greatly enhanced my learning and professional development.
Finally, I want to express my deepest appreciation to the many staff members and community leads across the Internet Archive and Open Library and volunteers who have provided their support to our communications program. Here are some of those names: Lisa S., Chris Freeland, Drini Cami, Jim Champ. Mark H., Brenton Cheng.